My newest ebook -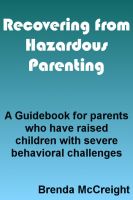 Recovery from Hazardous Parenting - is now available at Smashwords.
http://www.smashwords.com/books/search?query=brenda+mccreight
For those who don't know me or read my other blogs - in my non-writing life I'm a therapist specializing in behaviour disorders and this book is written for parents who have raised a child or children with extreme behaviour disorders and who now need some help in the recovery process. My other non fiction self help books have been about helping parents to raise their children and one book was for adopted children to understand how their lives got to where they are. This one is for the parents to help themselves create the next phase in their lives.
I hope you will take a look at it - and my other books as well.
Have your best day possible.