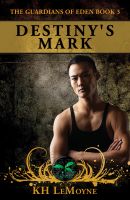 K.H. LeMoyne has been writing romance ever since someone told her that she had to grow up and get a real job. Then she switched to writing romantic fantasy to keep real life from getting in the way of a good story. The love of things mystical and magical keeps her writing, with characters who fight for never-ending love against insurmountable odds. Well, that and occasionally she gets to write about elves and dragons … but that's a different story.
The difference between fate and destiny is choice.

Tsu Halan, Guardian defense master, has honed his skills and waited patiently over the centuries for the covenant's promise of a mate to share his soul and a family to cherish. Close enough to taste fulfillment, the dark echoes of the past threaten with danger and death.

Jai Dashkov harbors her own painful secrets of harsh betrayal and tender loss. Her desperate search to reclaim her life doesn't allow room in her heart to deviate for love.
Adult-content rating: This book contains content considered unsuitable for young readers 17 and under, and which may be offensive to some readers of all ages.
Brenda, thank you for hosting my on your blog today!
The main character in Destiny's Mark, Tsu Halan, is the defense master for the remaining members of the Guardian race. Some readers might think there is a correlation between him and the more famous Sun Tzu of eastern battle strategy and philosophy fame. Well, yes and no. Tsu does share a geographic past with the renowned originator of the Art of War. He shares a deep commitment to logic and philosophy as well. However, the approaches of these two men differ quite a bit. I thought I'd share something that I ran across during my research for the Guardian series. I hope you and your readers enjoy.
~Kate
Interesting Research Tidbits
I read and research a lot of mythologies, fables, and religious principles looking for items to pepper my stories or morph for fun. I'm no expert on any of these subjects, but I am a lover of taking tidbits and daydreaming about 'what if.' Out of this process, I created the Guardians' world, the rules that govern them, their individual powers, their homelands, and many of their difficulties.
Each book in the series focuses on a different Guardian from Eden's Sanctum: their struggle to win the hearts and respect of their mates, their battle against the evil intent on destroying them, and their effort to realign the Guardian covenant to provide protection for mankind's evolution. They represent different geographic regions of the world and so I read through a lot of information, and search through too many name databases to mention. Cool, but a huge stack of info. This is the reason I print most of my research and keep huge binders with lots of Post-it tabs.
Sound pretty dry? Not really. I run across wonderful information – most of which I'll never use in the story, but no information is wasted on the imagination.
Here's an example. The main character in
Destiny's Mark
is Tsu. He is the Guardian weapons and defense master, and he and his sister Quan originated a few hundred years ago from an eastern province of China.
My Tsu loosely shares a name and some traits with Sun Tzu, from the Art of War fame. While the book, The Art of War, is a tangible item, there is mixed conjecture as to whether the Chinese general, Sun Tzu actually existed.
That said there are some fun mythologies and stories about the man.
One being that King Ho-Lu tested Sun Tzu's skills by ordering him to train the king's harem as soldiers. Hmm, you can see this problem coming miles away. As the story goes, two of the King's favorite concubines were positioned in command of the remaining hundreds of concubines. Ordered to perform their maneuvers, the concubines…giggled. To be fair, Sun Tzu gave them a second chance. The giggling repeated. Tzu had the two favorite concubines executed, beheaded. His resolve and judgment was tied to the idea that "If the instructions are not clear, if the orders are not obeyed, it is the fault of the general. But if the instructions are clear and the soldiers still do not obey, it is the fault of the officers." The two women were replaced with a clear message sent to the troops and needless to say, further training efforts went smoothly.
That character profile didn't fit with my Guardian Tsu character, but I loved the trivia and the notation remains in my series notebook – never know when you might be able to use, reuse, or twist some detail.